I am an Associate Professor of Computer Science at the Department of Mathematics of the University of Padova.
(formerly I was a Researcher at the Computer Science Department of the University of Venice, and a PostDoc Researcher at the Department of Computer Science (DI) of the University of Pisa).
My Curriculum Vitae in italian or english (not always up to date).
Some (in my opinion) wise suggestions on how to study.
Some illuminating remarks by E.W. Dijkstra: EDW1305.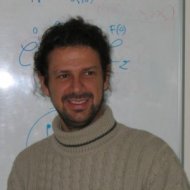 Upcoming Events
Petri nets 2018 - (40th International Conference on Application and Theory of Petri Nets and Concurrency)
June 23-28, 2019, Aachen University, Aachen, Germany.

ICTCS 2019 - (20th Italian Conference on Theoretical Computer Science)
September 9-11, 2019, University of Insubria, Como, Italy.
Deadlines: May 24 (full paper)

FoSSaCS 2020 - (23rd International Conference on the Foundations of Software Science and Computation Structures)
April 27 - May 1, 2020, Dublin, Ireland.
Recent Events