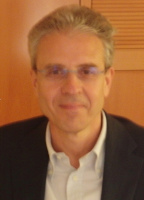 Martino Bardi
Università degli Studi di PadovaDipartimento di Matematica
---
Contatti
Indirizzo: Via Trieste, 63 - 35121 Padova (Italy)
Email: bardi@math.unipd.it
Ufficio: 511 (Torre Archimede)
Telefono: 049 827 1468
Qualifica: Professore Ordinario
Area Ricerca: MAT/05, Analisi Matematica
Specifica Area Ricerca: Nonlinear partial differential equations, viscosity solutions. Homogenization and singular perturbations for Hamilton-Jacobi and Bellman-Isaacs equations. Fully nonlinear subelliptic PDEs. Differential games.
Argomenti per Tesi: Equazioni nonlineari alle derivate parziali: problemi di omogeneizzazione e perturbazioni singolari, problemi multiscala nel controllo ottimo di sistemi nonlineari, giochi differenziali.
---
---
---
---
---
---