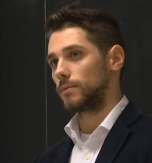 Welcome
Hello!
I am Daniele Ronzani, a Ph.D student in Brain, Mind and Computer Science in the Department of Mathematics, University of Padua, Italy.
My research activity started in October 2015, under the supervision of professor Claudio Enrico Palazzi.
I completed my MSc studies in September 2015, at University of Padua, Italy. My master thesis explores the state-of-the-art of position-based routing protocols in three-dimensional MANETs.
My main research interests include wireless protocol design, mobile networks and performance analysis of solutions supporting applicative scenarios in these environments.
Contact me on:
dronzani

math.unipd.it